First published in 1927 and now 2021, the CEC strives to keep Canadians safe, along with improving electrical installations. There is no denying that there is constantly new items being updated and added, and new addendums or revisions being made.
The CEC, or Canadian Electrical Code, is developed and maintained by the CSA group and their 1600 in-house technicians, along with 9000 volunteers, as mentioned on their website. For the 25th CEC edition there have been 320 people contributing to it and establishing over 200 changes in the 2021 book.
Here we won't get into the controversy or court cases involved with CSA group. Rooting mostly from the accessibility of government law only by means of paying for it. I personally do not have qualms but I do see some points raised regarding Knights Publication of the CEC.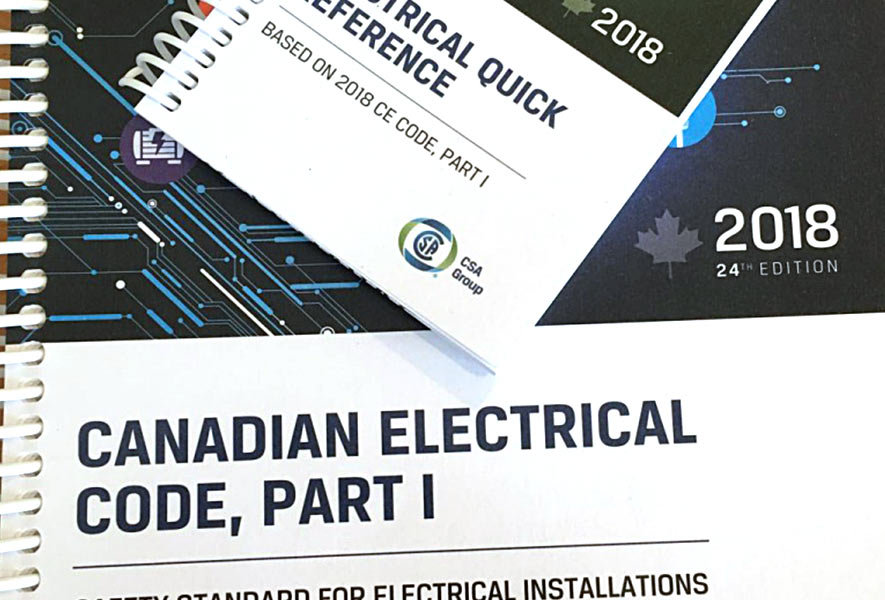 Climate Change Policies Integrated?
In previous editions of the CEC, there have been ever-changing additions for renewable energies. The World Resource Institute predicts in Canada; flood damages will be in the area of 6 billion dollars. It may be a coincidence, but there are new code revisions for electrical installations in the CEC flood zone, many basements.
Livestock and Barn Electrical Safety from Fires
Throughout the rural area, there can be barn fires that can be devastating and damaging. They can cause financial hardship, with loss of livestock and property. It is said that 40% of barn or stable fires are caused by electrical installations. With this knowledge, changes have been implemented to ensure safer installs.
Solar, Wind, and Renewable Enery and Storage
There comes more installations of new systems to change energy sources to more environmentally friendly systems. The biggest currently are solar, wind, and thermal. Even though these may have immense waste factors and low power output compared, they pick up popularity. Perhaps more funding should go into nuclear waste management research or hydrogen development. Funny how hydrogen was a thing in the '70s, but only now we will start to research it slowly.
Ok, I digress, but with these new installations of solar and wind, new rules are bound to come and have been for the past couple of editions. In 2021 it is no different, and we will see some additions here also.
Changes in the 2021 CEC
Moving forward, let's dive into what kind of changes we can see coming forward. Keep in mind, as play out from previous editions, these changes most likely won't come into full effect until 2022.
Low voltage is increasing from 750v to 1000v
The bonding of switches has been removed from when it was added in the 2018 edition.
Tables 6, 9, 11, and 19 have been revised.
Table 1-4 now has a column for the mm2 of each conductor. This will be handy for faster calculations also.
Table 39 is gone, along with rule 4-004(22), that referenced the table for use. This will impact the conductor and over current protection size.
The index seems to be missing at the back of the book, this is of little consequence as I almost always use my PDF, but may affect some that don't.
8-304 maximum outlets per circuit have been added for 100% breakers.
15 amp circuit with 80% rated overcurrent = 12 outlets max
15 amp circuit with 100% rated overcurrent = 15 outlets max
20 amp circuit with 80% rated overcurrent = 16 outlets max
20 amp circuit with 100% rated overcurrent = 20 outlets max
26-704(2) states all (residential and commercial) outdoor 15 and 20 amp receptacles within 2.5 m of grade must be GFI protected.
26-652 mentions that any branch circuits below ground level in designated flood zones to be GFI.
All circuits located below ground level in a designated flood zone must have GFI protected.
26-712 in a designated flood zone, the sump pump receptacle must be higher then the water level.
Meter grounding when on the supply side
10-210: 2) Notwithstanding Subrule 1) d), where metering equipment is installed on the supply side of a service box as permitted by Rule 6-402 2) and the grounding connection is made at the service box, the grounded conductor shall be permitted to be connected to the metering equipment enclosure.
The use of Table 38 for EVSM, electric vehicle demands. All areas besides dwellings will require 100% demand factor. Due to peak hours at other establishments.
Deleting of rule Rule 2-404, which has requirements for name data on motors. The reasoning is CEC Part 1 is for the installation of equipment and this rule should be in PArt 2 for the manufacturing of electrical equipment.
Conclusion For Changes to CEC 2021 25th Edition Part 1
So there are some additions, deletions, and revisions coming in the 2021 CEC. For those who have the new CEC, taken the upgrader, or have knowledge of something missed, corrections, or additions, feel free to comment below. Going to try and add to this as we find new ones. Thanks and safe installs.