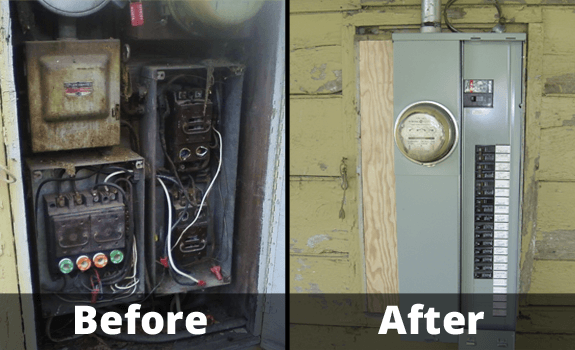 If you are in a mood of your residence's service upgrade or want to relocate or if the power coming into your home has turned out to be old and outdated, knock Caltrac Services to get the highly professional services in town. If you stumble upon a lesser power than what is needed currently or the power is in wrong location, you need the service upgrade.
If you have added a garage or installed a hot-tub or added extensions at your residence, then you are certainly in a need to upgrade the entire service wire and the equipment associated with it.
Caltrac Service raises no big claims or slogan rather shows their claims with their exceptional and professional services. We are specialized and experts in overhead and underground services. If your system ranges from 60Amp to 100Amp or 200Amp, our experts can get it done up to the code and will utterly complete the permit process.
Our team consists of the licensed, skilled, trained, highly professional and courteous staff. You will feel a home ambiance with us, and this is what we would love to endow to our customers. Our clients are our family and they are always under our family tree.
If you are remodeling your existing home and this turns out to be a design job, then you need a service upgrade of your electrical system. If you are changing your home to multi-family residence or you want subdivision in your home, then ofcourse this will make you land into electrical service upgrade.
No worries at all! Because for your worries to resolve, our team is out there with their talents, skills, training and experience. Leave it all on us and we will assure you of beyond satisfactory results.
For some reasons if you are relocating, then leave all your worries aside. No need to take any tension at all since Caltrac is there to help you out. We provide the professional and much economical relocating services.
It is nonetheless the most challenging task of completing the electrical panel relocation, thus it must not be tried by yourself instead you need to hire the services of the experts. Call your most trusted electricians in town i.e. Caltrac Services to do the job. We offer a variety of electrical panel services including panel relocation. You will find the most economical and exceptional services you deserve the most.
No matter if you just moved into your old home or going to add onto your home, you could be in need of electrical panel relocation services. We can provide you with the expertise you need to relocate the electrical panel boxes at your residence successfully. Experience our skilled electricians and witness the benefits, mentioned below, in addition to the breaker panel relocation.
Since the risks are involved in wiring and relocating the electrical panel, we go with taking extra steps to make it sure that everything gets complete with safety.
In order to help you be away of dealing with multiple appointments, Caltrac's trucks and team are fully equipped with handling most of the jobs the same day.
We value your time that is why our team makes all efforts to be prompt.
Our team is fully insured and licensed, so you can rest assured of trust on us.
Whenever you need residence electrical panel upgrade or electrical panel relocation, just think of Caltrac Services for quality work and peace of mind.