For more than 30 years, Caltrac Services has delivered reliable and quality electrical services in the city of Calgary at competitive rates. Caltrac is providing residential and commercial services in the electrical field including house wiring, exterior lighting, fire alarm installation, machine installation, motor services and a lot more.
Caltrac also designs and renovate houses interior including kitchen, rooms, and basement for customers on the basis of the contract. Our first priority is customer satisfaction, we believe that the key to successful business is focusing on the needs of customers and provide them with the best quality services.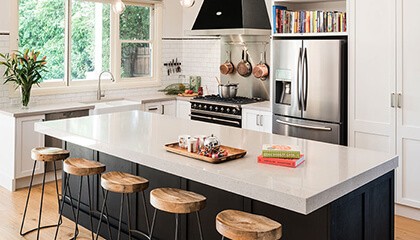 A kitchen is supposed to be the heart of your home, in many homes it's the central gathering spot of your family. You prepare meals for your family, store food items and often eat in the kitchen.
Without a kitchen, a house could never complete. Most of the people start their day from the kitchen with a cup of hot coffee or energizing breakfast that will help them to go through the day.
A Kitchen should be clean, healthy and comfortable. Environment matters a lot, interior designs affects your mood, personality, and behavior.
A well-designed kitchen keeps the good impression of your home on the guests and neighbors. So, you should think about redecorating your kitchen.
Kitchen remodeling consists of complete re-design of the kitchen, new cabinets, under-cabinet lighting, and new appliances. We could build self-opening/closing drawers, pull out trash cans, two-tiered cutlery divider, drawer dishwasher, roll-out pantry drawers, and many more to make your kitchen functional and efficient. All the damages in your kitchen will be repaired during remodeling. We could install any type of floor you want, however, most of the people go for hardwood, linoleum, cork and porcelain tiles. The latest trend of sinks includes marble sink, bamboo apron sink, prep sink and iron island sink. You could include a wide range of accessories with latest sinks like utensils trays, drying racks and colanders.
Our company renovates kitchens according to your desires, we appreciate that if you have any creative ideas or goals about remodeling your kitchen. We will discuss your plans for your kitchen and our designer will show you the best designs for your kitchens. Our survey team will take measurements of your kitchen and after discussing the designs you have selected for your kitchen renovation, we will give you the estimated cost of the project and the time duration of this project. You will be connected with our team and there will be no troubles at work. Our workers are professionals and humble, they will do their work while keeping the noise minimum. We assure the quality of our work, our customers are more than happy with us and for any new designs, they always recommend us.