There are few factors, which determine the capacity of the electrical service in commercial place. And most of the time, it is based on the wiring system's capacity and the calculations of the load for any electrical equipment which is connected to the wiring system.
You can also get an idea about the building service capacity from the breakers or fuse box. The electric service panels could consist of updating underground cables to meters and service panels.
Experience our services 24 hours a day and 7 days a week. Our trusted professionals are all the time ready to help you out and discuss with you.
Feel free to talk to our expert team to get an estimate on your panel upgrade needs. Our licensed and insured professional team will get your work done in quickest time.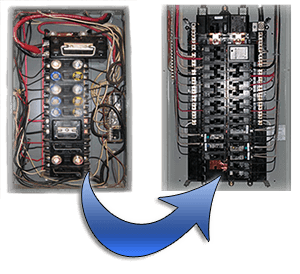 Commercial Panel Upgrades With Caltrac Services
At Caltrac Services, we value the needs of our customers and consider them important. Our central focus of delivering quality commercial panel upgrade services together with honesty and deliverability has made us the first choice of our clients. You can show your trust on us for taking care of your electrical panel upgrades or electrical services.
Since many commercial facilities are often quite old and have not been upgraded so far, they are surely in utter need of upgrades. Although getting your electrical panel upgraded while the renovation work goes on is undoubtedly a good idea, but you may upgrade your panel anytime you want nonetheless.
Service Capacity for Commercial Buildings
Judging service capacity is quite essential and it is determined in a commercial area through the load capacity of the total power which is evidently needed to run the facility. It is simple – the more circuits a commercial building has, the more power it demands. Remember, if your commercial building has not been inspected since quite time or long time, you are obviously putting your older building at risk. You definitely need an electrician for the inspection and upgradtion. So, call our licensed, insured and highly technical electrician and the team to do the work. At Caltrac, we provide utter safety inspections to make it sure that the building is up to the code.
Commercial Service Panel Installations & Upgrades
Well, an electric service upgrade could not be a necessity instead a commercial area may be in a need to upgrade a service panel or circuit capacity. In order to determine the most economical solution for you, we endow you with a load calculation in accordance with National Electric Code (NEC). Caltrac Services always provides accurate and most economical pricing and estimates. Your safety is always our priority.
Call us or arrange a personal meeting with us to discuss your upgrades or other electrical services.