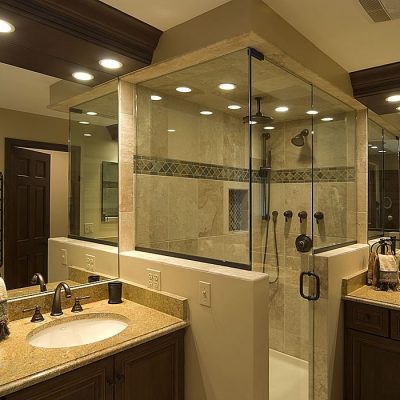 Caltrac Services provides the customers with the facilities of remodeling their houses or small industrial units all under one roof. Caltrac pays attention to details while renovation of your house and ensures that their customer is satisfied with the construction process as well as from the final result. The services are a try to give you the least complaints to your home life. They try to make the process as much clean, organized and safe as possible. Caltrac services is known to add value to your house with a high-level work and tax liability.
There is always a reason to update a bathroom. Maybe the children grew up or maybe the bathroom seems to come from the 70's and needs some important changes. The main reason why so many people remodel or renovate their bathroom is to add more value to the house. Adding more value to the house helps to justify spending expenses related to bathroom remodeling. In any case, the bathroom can be updated with almost all budgets.
You can get the bathroom renovation in Calgary with the desired price. We offer an interactive bathroom service and a construction process to turn a service room into a luxury retreat or a romantic retreat at affordable prices, but this remodeling of the bathroom will be as attractive and decisive as the most expensive. Caltrac specializes in the renovation of quality homes and the construction of custom homes. The belief is that success is met only when the expectations of customers are achieved. Caltrac has a passion for excellence and offers the highest standards of quality and integrity.
A personalized bathroom renovation can contain many personal details to help you achieve your ultimate vision and all your specific needs. Details such as underfloor heating, steam showers, tile inserts, bespoke glasses, granite countertops and pot lighting, as well as other high-quality finishes create the atmosphere of a relaxing spa. You might want any of the following updates to remodel your bathroom:
Tiling
Cabinetry
Dry Walling
Painting
Plumbing
Electrical
Installation of counter top
Carpentry
Caltrac designs all the bathroom renovations according to their customer's specifications and meets the high standards on which Caltrac services was built. They offer the experience and capabilities of their team of contractors for bath remediation, including designers and project managers who make sure the renovation process is enjoyable.
If you are considering updating your bathroom, then you can call Caltrac anytime for free assistance and free quotations. Caltrac guides about how you should renovate or remodel your bathroom according to your needs and develop a design according to your budget.
The quotations Caltrac provides are completely based on the computerized CAD Models of the bathroom design which avoids the extra costs. It also gives the right material that is suitable for your bathroom. Bathroom renovation Calgary gives a comprehensive quotation which give all the details about the project and make it easy to understand for our clients.
Before beginning the work, the project managers will meet with you to clear all your queries about the remodeling of your bathroom. Caltrac services will help you plan and design your bathroom remodeling in Calgary to meet your needs and budget, and to assemble the construction plans required for your authorization requests.