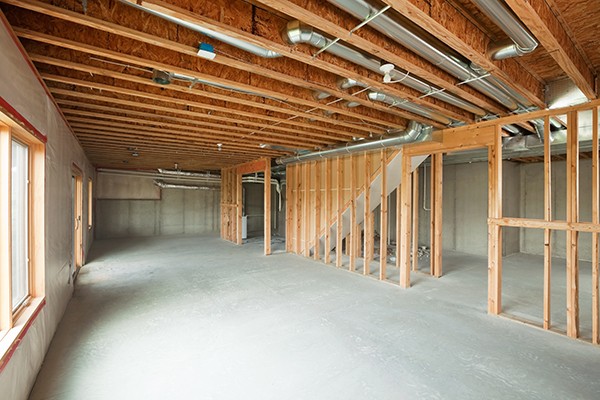 At Caltrac Services it is ensured to meet the requirements of our customers within their budget and make use of best quality and most suitable materials. Caltrac has an experience of more than 30 years in commercial, residential, and light industrial areas. So, if your basement is partially or completely finished, but you want to improve or renovate it for a better utilization of space or the upgradation of the outcome of your basement, then you can seek assistance from us.
Usually, the most ignored area in your house is the basement. Remodeling or the renovation of the basement is also a great way to add value to your home while facilitating the enjoyment of a common area of the home. If you want to give it a new look or renovate it, Caltrac is here to serve you.
Caltrac discusses with you about what you want the outcome to be and catering to your needs they develop a design according to your budget. You can call Caltrac anytime for an onsite visit or a free estimate. The estimates are completely transparent and they assure to will let you know about what you will be paying for and how does Caltrac operate. The quotations are calculated by using the CAD software, which provides accurate estimates of materials and avoids the unnecessary costs. All the citations will give details about every phase of the project in a simple and easily understandable way.
In order to begin with your basement development and renovation, it is important to ensure that the walls are adequately evaluated to detect structural problems, damage caused by water and compliance with sanitary or electrical regulations. Caltrac makes sure that everything in your basement is properly evaluated and corrected, if necessary, so that your basement improvement project leaves you alone, knowing that your basement will be solid and dry for decades.
The team will oversee and manage your basement development or renovation project from the first initial meeting to the final inspection. And will make sure that all the work is well coordinated and completed in time for your satisfaction. Caltrac carries out on-site inspections on completed work and provides answers or quickly resolve any problems that may arise, avoiding delays in the project.
Before getting started, you might need to know if you require a permit for your basement development or renovation.
You will require a building permit in the following cases;
You are finishing your basement
Removing, adding or removing any interior walls
Replacing kitchen cupboards
Renovating your basement
You will not require a permit in the following cases;
If you want to paint your walls
If you want to replace the flooring
If you want to replace the shingles or siding
Renovating your basement
Caltrac includes the basement contractors who use quality materials and are committed to providing excellent customer service. They will treat your basement as if it were theirs!
Before starting work, one of Caltrac's project managers will meet with you to answer any specific questions or concerns about the project and establish the protocol for accessing the site, working hours and scheduling. For customers who use Caltrac services, planning and design service, the design meeting will take place at this time. To ensure that projects run smoothly from start to finish, Calgary basement renovations also offer internal planning and planning services. Caltrac will help you plan and design your project to meet your needs and budget, and to assemble the construction plans required for your authorization requests.